Statement accessories from Central Europe, Budapest.
Refresh yourself and rediscover your femininity with our various hand fans.
Wave
Discover your favourite bamboo hand fans with our unique patterns for the summer days!
About us
Welcome to Anka Fans, the home of beautifully crafted hand fans from Budapest, Hungary. Our brand was founded by Bianka Bujdoso, a renowned fashion blogger turned advertising professional, and László Jonas, a seasoned business development specialist with a passion for nurturing startups in Central Europe. Together, they bring their expertise and love for Hungarian design to create unique and stylish hand fans that not only keep you cool but also make a fashion statement. Discover the elegance and functionality of Anka Fans today.
Brand Partnerships & PR coverage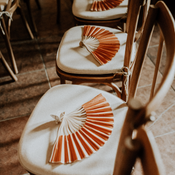 BE SPECIAL
Wedding & Event hand fans
Make your wedding or special event even more exceptional with a custom-designed Anka Fan. Contact us at contact@ankafans.com to get started.